After we helped our client, LiveWell Colorado, envision, design and develop a statewide web campaign aimed at deepening the understanding of childhood obesity for Coloradans, we implemented a translated campaign on their Spanish site.
Denver Creative Design Agency Designs a Better Web Campaign for the Hispanic Community in Colorado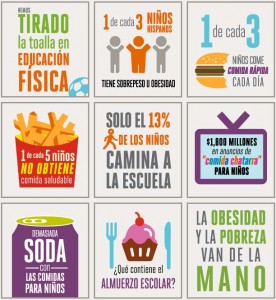 Tailored to the Hispanic community in Denver and surrounding areas with renovated design aesthetics and implemented Spanish content given by LiveWell's Hispanic consultant, the web campaign FIREANT completed for this Colorado nonprofit is a great illustration of the following well-executed features:
CSS3 animation infographic flip tiles
customizable social picture and text shares on the internal tiles, success stories, and pages
custom subscription form that scrolls with the page to collect information from the public
success story landing and detail pages highlighting relevant examples of success the community has experienced
View details of these features.
View the Childhood Obesity Campaign on LiveWell's Spanish site.
Conveying Cultural Sensitivities for Multi-lingual Website Campaigns
Priding ourselves on professionalism and highly detail-oriented design and superior interactive digital experiences, this project is a great example of applying cultural sensitivity to an important facet of our client's needs. No team member at FIREANT excels in speaking, reading, or translating Spanish, but working closely with the LiveWell Hispanic consultant provided a unique perspective on our own business.
Design and development, especially when integrating interactive capabilities, include many different combinations of computer languages. Some basics include, but are not limited to, HTML, CSS and JavaScript. Being able to work on a site with a different human linguistic angle flexes our cultural view of our usual web design process, as well as keeps us sharp and presents a different, fun challenge in our work day.